WHY YOU AS A WOMAN BELONG ON OUR RUGBY TEAM
RUGBY FOR WOMEN?
NATURALLY! WHY NOT?
There are those who say that women are not made for rugby. The Oranien Raptors and our fellow rugby clubs choose to disagree. That's why we started our women's team on the 24th of August 2021. Our kick-off event was a great success, but we want to inspire even more women to join us. Our motto is "We need you exactly as you are, because you are perfect just the way you are!" We're looking for enthusiastic women who love sports. Is that you? We'd love to have you on our team.
We offer sports for the women of Oranienburg because we believe that rugby has the power to shape you and teach so many important life lessons. Through rugby you can find the courage to achieve your goals. Experience the joy of true team spirit. We have been sharing this for the last four years, since we established rugby in Oranienburg by founding the club.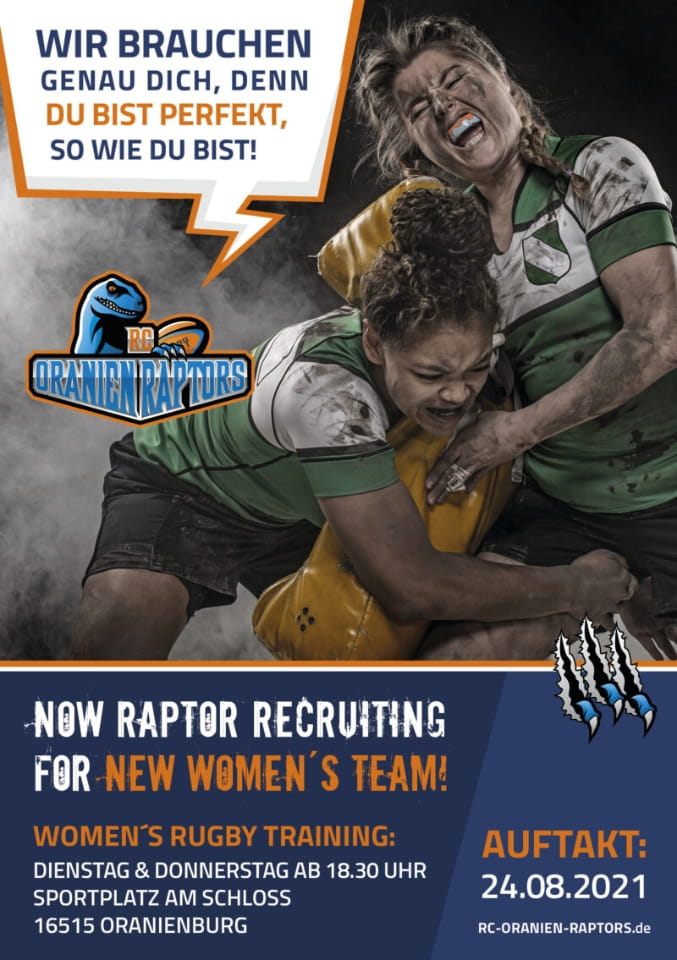 A rugby match lasts 80 minutes. This time demands the total focus of your power and skills There's little time to catch your breath between the two 40-minute halves, and there's no substituting in between. You'll run, kick, pass and get dirty. You'll love it!
Playing rugby means working hard. 100% is not going to cut it. We want you to give 110%. With us, you'll learn to go the extra mile and really push yourself. From experience, our members take this lesson with them into their everyday lives. So, training with us not only strengthens your body, but also your assertiveness and persistence in other spheres. But strength is not everything. On the field, people zip skilfully back and forth to where they're needed. Without teamwork and coordination, nothing will work.
YOUR FIGURE DOESN'T MATTER
Das Schöne am Rugby ist, dass es eine Position für jeden Körpertyp gibt. Es ist vollkommen egal, ob du groß, klein, dick oder dünn bist. Beim Rugby lernst du die Stärken deines Körpers kennen, wie in keinem anderen Mannschaftssport.
Plus, with the Oranien Raptors, you can expect the best workout of your life. Rugby is a high-intensity, full-body workout. It will give you results faster than any other ab, leg or butt excercise. We believe that women's rugby is one of the best ways to reveal just how resilient the female body really is.
GENDER IN RUGBY? IT DOESN'T MATTER.
Rugby is a full contact sport. It doesn't matter if you watch the men's or women's practice. In both cases, you'll find that full body contact is required. There is not a single difference between men's and women's rugby. We created our women's team to prove that you can do everything a man can do and that sport is great for women in general.
YOU'RE PART OF THE FAMILY
During our training sessions you will form a close bond with your comrades. During training, you'll battle with them and at the end you'll say, Now, that was a great meeting. During a game, you stick up for your team and your team sticks up for you. When your teammate goes down with the ball, it's your job to rally around her and protect her.
This team feeling in rugby is incomparable to any other sport. As a Oranien Raptors women's rugby team member, you're sisters under the skin. During a match you will all look out for each other and at the end you will feel like a warrior! That's a promise.
RUGBY IS ABOUT RESPECTING OTHERS AND BEING RESPECTED YOURSELF
Rugby is different from other sports in many ways. Unlike basketball or soccer, you are not allowed to disagree with the referee. Indulging in emotional displays and questioning the referee's decision simply won't happen in rugby.
You will experience moments where the referee makes a clearly wrong decision. But that's part of the sport. Mutual respect plays a huge role in rugby. You will experience this firsthand, and this discipline will help you stay calm and respectful in your everyday life.
Some sports take their time. Rugby is not one of them. You're constantly on the move and having to regroup. There are no long breaks, like in soccer.
It's a rare occasion when you get a breather. The game only loses speed when a goal or foul is scored. Sometimes there is a scrum, you get knocked down and have a few seconds to get up. It's a hell of a lot of fun. The fun is why we're here.
No matter what the preconceptions, there is no tiptoeing about in women's sports. This is especially true in rugby. It's physical. You're going to get knocked down, whether you're new to the team or experienced. That's part of our sport. What rugby teaches is that you always have to get back up, no matter how powerful your opponent's tackle was. You have a lot of ways to deal with it, but feeling sorry for yourself is not one of them.
In these situations, you have to pull yourself together and not stay down. Over time, you will learn how to turn your fall into a roll so that you come up grinning. However, you don't have to worry so much about major injuries. As described earlier, in rugby, foul play of any kind is frowned upon. While any sport comes with some risk, it is very rare for a rugby player to suffer a serious injury.
Das Frauenteam der Oranien Raptors will zeigen, dass Rugby für Frauen nichts Besonderes sein sollte. Leider bekommen Frauen häufig gehört, dass sie etwas nicht schaffen können. Ein Training mit uns wird dir klar machen, dass du unaufhaltbar bist.
Jede Frau ist stark, kraftvoll und besitzt Durchhaltevermögen. Meinst du nicht auch, dass es Zeit wird, genau das unter Beweis zu stellen? Dann werde jetzt ein Oranien Raptor und besuche uns bei einem Probetraining. Wir freuen uns auf dich.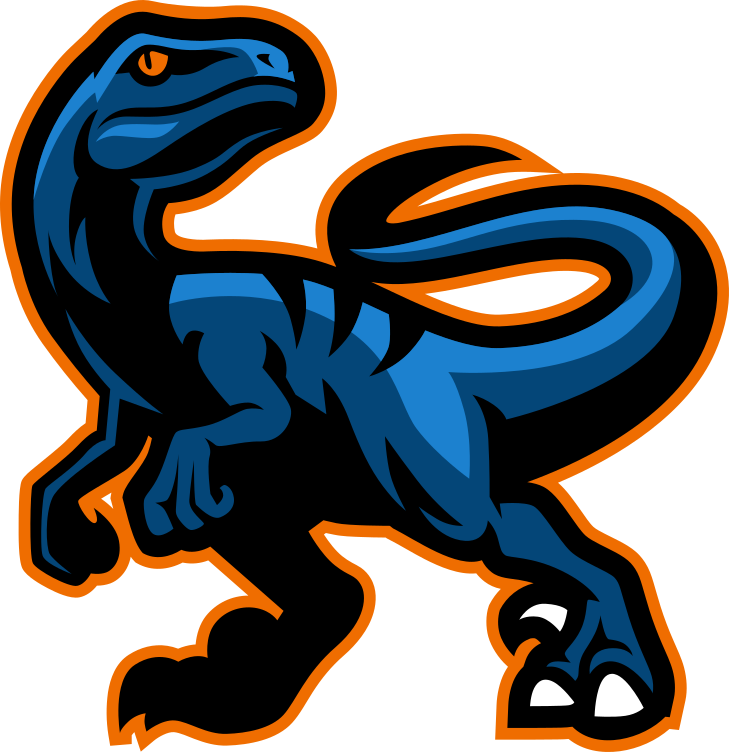 JOIN US FOR A TEST TRAINING SESSION!
Feeling curious? Come along and try a training session to get the feel of things! Any time, with no obligation to sign up.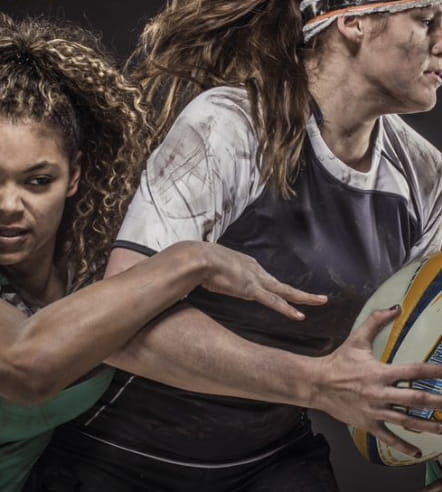 TRAINING SCHEDULE: SUMMER
March till end of October
Montag und Mittwoch
18:00 – 19:30 Uhr
TRAINING SCHEDULE: WINTER
November till end of March
Samstags
12:00 – 02:00 PM