LET YOUR CHILD EXPERIENCE A SPORTING CHALLENGE
Children love exercise. That's hardly a surprise, since they have far more energy than adults, and they're always looking for fun ways to channel it. At Raptors, we've got the winning option for your kids. Rugby is not only the ideal sport for adults. Children between 8 and 10 also have a lot to learn from this sport.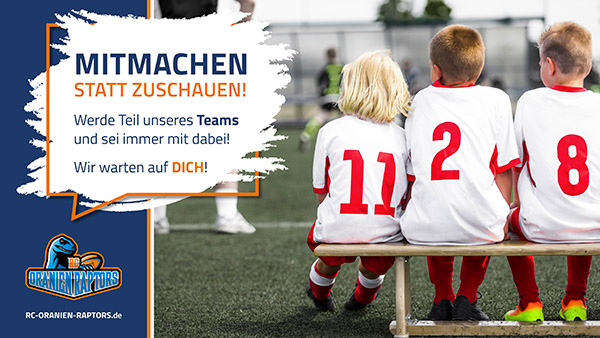 RESPECT AND PERFORMANCE GO HAND IN HAND HERE
There are so many reasons why rugby is one of the best sports to build character. To start with. There's the grit involved in getting up after a fall, and breaking through your own limitations to achieve higher performance in training. Of course, the U10 age-band is a little early for that. But here, while we still have a more playful approach, we're already starting to think about performance.
Of paramount importance is team spirit. Because, once they're on the field, our players must stand up for each other and fight, united, for points and victories. Rugby, for all its aggressive reputation, is a game that manages largely to avoid foul play. Why is that? Because in rugby, respect comes first - respect for one's own teammates, respect for the opponent and, last but not least, respect for the referee.
These are the precise qualities we instil in your kids as early as our U10 squad - respect and a willingness to perform. With this combination, your child will go far in life – the benefits aren't limited to rugby.
WOULD YOU LIKE TO PLAY IN A GREAT TEAM? COME AND VISIT US, AND BRING YOUR PARENTS!
The Oranien Raptors are always looking for new members to join our U10 team. Here, we're constantly training, and there are always formal competition games as well. What we find extra exciting for our kids are our team trips abroad. We have been to tournaments and events as far off as:
Prague
Gdansk
Milan (at the Six Nations Minis Cup)
Further exciting adventures like this are in the pipeline.
Bring your parents over during training hours and try out the game. Once you have experienced the thrill of the game, you'll be hooked! There's nothing like being a Raptor.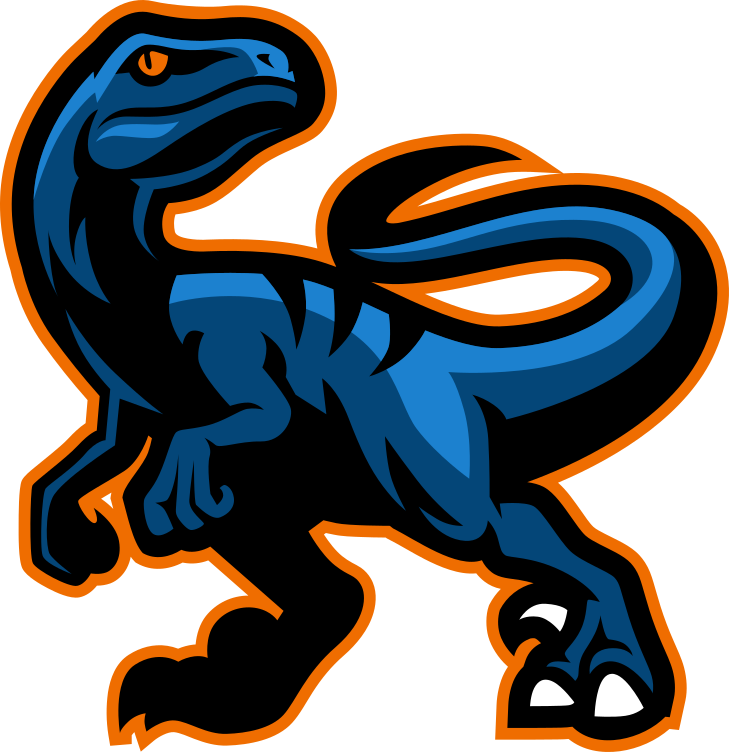 JOIN US FOR A TEST TRAINING SESSION!
Feeling curious? Come along and try a training session to get the feel of things! Any time, with no obligation to sign up.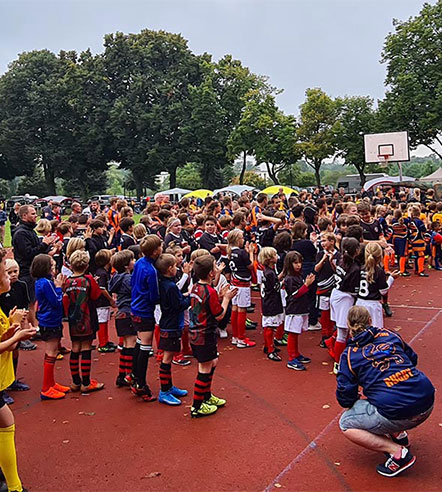 TRAINING SCHEDULE: SUMMER
March till end of October
Tuesdays and Thursdays
17:00 – 18:30 Uhr
TRAINING SCHEDULE: WINTER
November till end of March
Saturdays
12:00 – 14:00 Uhr
Sports hall behind the castle (right next to the rugby field)